Your health is our top priority
Our physicians are committed to surgical excellence as an expression of the highest quality patient care and operate in a state-of-the-art facility equipped with the most advanced medical technologies.
Award-winning team of Board-Certified spine surgeons
Our team of experienced neurosurgeons and interventional spine specialists work together to treat a wide range of spine disorders, using minimally invasive techniques. Operating with state-of-the-art equipment and procedures that reduce surgery-associated risks and promote faster recovery times, their goal is to treat your condition fully and get you back on your feet as soon as possible. This to us is the essence of patient-centered care – and we practice what we preach.
Our approach to minimally invasive spine surgery
At Legacy Brain & Spine, we understand the significant negative impact back or neck pain could have on your quality of life. Therefore, our goal is to get our patients back to resuming normal activities as quickly and comfortably as possible, whether their pain is caused by spinal instability, scoliosis, herniated discs, degenerative disc disease, bone spurs, vertebral compression fractures or other trauma, or failed previous neck of back surgeries.
To do so, we apply minimally invasive techniques that involve the use of tiny incisions and muscle-sparing methods to treat the spinal problem. There is a big difference between operating through a half-inch incision and operating through a 5-inch cut in terms of infection, blood loss, muscle damage, other surgery-associated risks, reduced post-operative pain, and even cosmetic results, so we strongly recommend minimalist procedures whenever possible. Even so, our holistic approach to health means that we always start with considering medical or rehabilitative treatment before surgery.
When you come to one of our clinics, our team of spinal specialists will carefully assess your condition, provide a diagnosis, and guide you in understanding your treatment options. If a non-invasive therapeutic approach is not the best solution for your individual case, they will determine and recommend the optimal minimally invasive spine surgery to ease your pain and discomfort.
Surgeons you can count on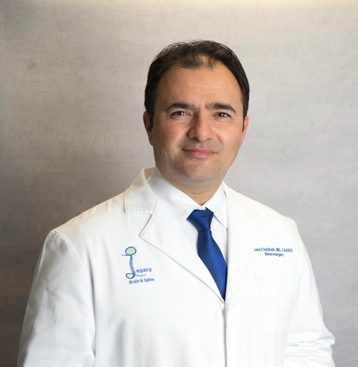 Said Elshihabi
MD, FAANS
Founder / CEO
Jerry Walters II
MD
Neurosurgeon / Spine Surgery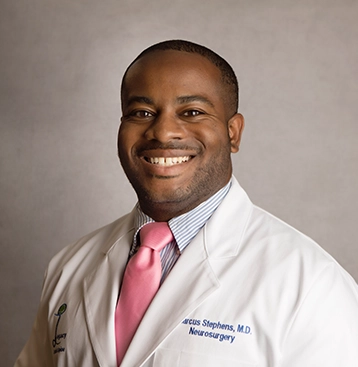 Marcus Stephens
MD
Neurosurgeon / Skull Base Surgery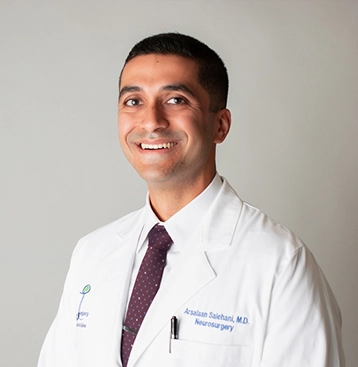 Arsalaan Salehani
MD
Neurosurgeon / Spine Surgery
Richard Gullick
MD
Neurosurgeon / Spine Surgery
When we came in, Dr. Elshihabi said not a problem, we know what to do, we'll go for your test and everything, and he fixed me up in no time flat, and ever since then, it's been over a year now. Nothing. I feel great!
Of course, I was scared at first. But I had to trust. And afterwards, I felt 100% amazing, it feels as if I have a new lease on life! And been able to enjoy life, especially with my newborn child is amazing.
Below is a list of our currently accepted insurances at Legacy Brain & Spine Surgery Center. This list is subject to change at any time. Be sure to confirm your insurance is accepted when scheduling your appointment. We proudly accept Medicare, Tricare, and the majority of all commercial insurances.
Aetna
Ambetter
Blue Cross Blue Shield
Care Source
Cigna
Humana
Medicare
Prime Tricare
Tricare for Life
United Healthcare
We proudly work with most major commercial payors, including the following:
Legacy Center for Spinal Surgery -
Atlanta, GA
Legacy Center for Spinal Surgery -
Riverdale, GA
Address:
528 Valley Hill Rd. Suite C
Riverdale, GA 30274
Legacy Center for Spinal Surgery -
Atlanta, GA
Legacy Center for Spinal Surgery -
Riverdale, GA
Address:
528 Valley Hill Rd. Suite C
Riverdale, GA 30274
Legacy Center for Spinal Surgery -
Riverdale, GA
Legacy Center for Spinal Surgery -
Atlanta, GA