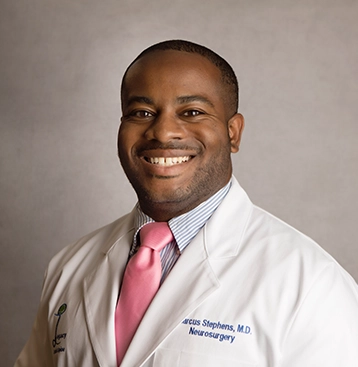 Marcus Stephens,
MD
Neurosurgeon / Skull Base Surgery
Dr. Marcus L Stephens II, an Albany, Georgia native, is a graduate of Hampton University and Meharry Medical College.  He completed his residency training in neurosurgery at the University of Arkansas for Medical Sciences in Little Rock, Arkansas.  He studied heavily under globally recognized skull base neurosurgeon and chairman of the department, JD Day and spent hundreds of hours developing his surgical technique in the Yasargil Microneurosurgery Laboratory.  After completing his chief resident year at the University of Arkansas for Medical Sciences, he completed a fellowship in open cerebrovascular and skull base neurosurgery under former Congress of Neurological Surgeons President and Chairman of Neurosurgery at Case Western Reserve University in Cleveland Ohio, Nicholas Bambakidis.
Dr. Stephens has authored several manuscripts in peer reviewed journals and takes a particular interest in tumors of the cranial base including meningiomas, pituitary adenomas, and vestibular schwannomas.  He treats a wide range of complex brain disorders including trigeminal neuralgia, hemifacial spasm, aneurysms, arteriovenous malformations, dural arteriovenous fistulas, gliomas, brain metastases, and traumatic brain injuries.  He also treats traumatic and degenerative disorders of the spine with modern, minimally-invasive, techniques.  Dr. Stephens believes in ensuring that patients and their families are fully educated on their neurosurgical care and providing the best possible, personalized, treatment plan for each individual patient.
"I believe in treating people, not images. Although developing neurosurgical treatment plans can often be challenging, my guiding principle is always treating my patients like my own family."